Program ID: Innovation Anthology #895
Program Date: 09/12/2017
Program Category: Alberta, Conservation, Forests, Science Communication, Wildlife
Health Landscapes Program: Collaboration to Develop Ecosystem Based Management Science
Dr David Andison is a forest ecologist with a special interest in fire disturbance.
He's also involved with the Healthy Landscapes Program at fRI Research.
This program is focused on a new paradigm for forest sustainability and development - a science called ecosystem based management.
Dr Andison explains the collaboration to promote this new system.
DR DAVID ANDISON:
The principle that I've been talking about emphasizes managing "wholes" as opposed to "pieces".
And it's a fairly fundamental shift in thinking for everyone involved. The Healthy Landscapes Program started out about 20 years ago with 3 partners who were interested in looking at the potential of EBM to become perhaps a new management paradigm. And now our partnership spans 5 different provinces and territories and we've got about 25 different partners. So there's a lot of interest out there from forest management companies, governments, non-government groups, to explore this potential.
Dr Andison says you can learn more about ecosystem based management at the website www.lessonsfromnature.ca
Thanks today to the

HEALTHY LANDSCAPES PROGRAM at
fRI RESEARCH
FOR INNOVATION ANTHOLOGY
I'M CHERYL CROUCHER
The Healthy Landscapes Program invites people interested in sustainable forest management to participate in the series of 2017 workshops and dialogues on ecosystem based management.
Grande Prairie

September 12
Images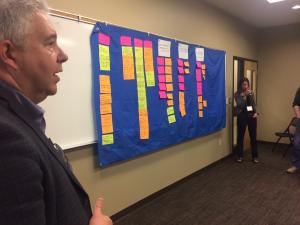 Guests