Program ID: Innovation Anthology #855
Program Date: 03/21/2017
Program Category: Aboriginal , Alberta, Anthropology and Archeology, Canada, History, Social Sciences, Women in Science
Anthropology Of Handicrafts At Federal Indian Hospitals
Dr Sara Komarnisky is an anthropologist and Post Doctoral Fellow at the University of Alberta.
Her research in public health introduced her to the tuberculosis crisis of the 1940's and 1950's, and the Indian hospitals set up by the federal government at that time.
In Edmonton, for example, there was the Charles Camsell Hospital where patients produced thousands of pieces of artwork during their convalesence.
DR SARA KOMARNISKY: So there were hospitals like this across Canada. I think there were over 20 of them. So another part of my work is trying to document those hospitals as well, their handicraft programs, and try and learn a little bit about where those pieces ended up. For example, one that I'm working on is a set of carvings at the McCord Museum in Montreal. And those all came from the Parc Sivard Hospital in Quebec City. That was a former immigration hospital and it was converted into a tuberculosis hospital kind of around the same time period that the Camsell was.
Dr. Sara Komarnisky says her research is part of a larger project at the University of Alberta. It's called "Object Lives and Global Histories of Northern North America".
Learn more at InnovationAnthology.com
I'M CHERYL CROUCHER
Link: http://www.objectlives.com
Images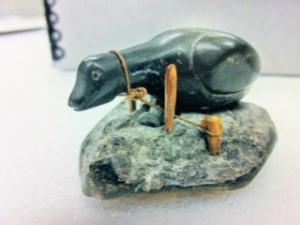 Guests