Program ID: Innovation Anthology #364
Program Date: 12/23/2010
Program Category: Energy, Oil Sands, Water
Thin Lift Drawing for Tailings
It takes four barrels of water to produce one barrel of bitumen from the oil sands in northern Alberta.
A lot of water is tied up in clay particles that settle out in tailings ponds at the end of the process. Syncrude is testing several technologies to help speed up the release of water from the tailings clays.
This will increase the amount of water that can be recycled to process more bitumen.
As technology development officer Jim Lorentz explains, in one technique the company is building a beach where water can drain from the processed sand and leftover clay.
Jim Lorentz calls it "thin lift drawing".
JIM LORENTZ: Thin life drawing is a technology where we add a water treatment chemical to the clay material from the tailings ponds. We place it on the beach in layers of about 30 cm to 60 cm deep. And in two to three weeks, that material is dry enough where we can add a second layer of material. That process repeats itself over the summer months and we end up with a trafficable material the following season.
According to Jim Lorentz, the dried material will be used in reclamation of mined areas.
Thanks today to Syncrude
Learn more at InnovationAnthology.com
FOR INNOVATION ANTHOLOGY
I'M CHERYL CROUCHER
Images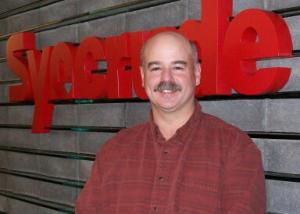 Links