Program ID: Innovation Anthology #352
Program Date: 11/11/2010
Program Category: Biotechnology, Energy, Environment, Oil Sands, Water, Women in Science
Microbes Offer New Hope for Tailings
Microbes are amazing things. They thrive in the harshest of environments, from hot springs to glaciers, and even oil sands tailings ponds.
Tara Penner researched these microbes for her graduate studies, and now she's continuing this investigation at Syncrude Canada Ltd.
As Tara explains, it was the mid-1990's before scientists suspected microbes were producing gas bubbles that appeared in tailings ponds.
TARA PENNER: The other interesting thing that was observed at this time was that in the areas of the tailings ponds that were producing more gas, the tailings were densifying more quickly and releasing more water. And so this is really important because the big problem with our tailings is that it is this yoghurt like substance that holds onto a lot of the water. So any way that we can release more water from the tailings and create a more solid dense material that's going to help with our reclamation efforts.
When Tara Penner set out to identify the different microbes, she found that instead of just a handful of species, there were literally hundreds populating the tailings ponds.
As well, they were similar to those same microbes that live in natural lake sediments, the ones that degrade plant and animal material.
Thanks today to Syncrude Canada Ltd
FOR INNOVATION ANTHOLOGY
I'M CHERYL CROUCHER
Images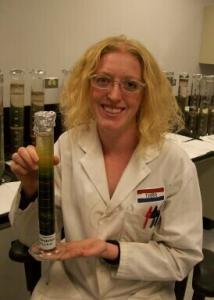 Links