Program ID: Innovation Anthology #259
Program Date: 10/08/2009
Program Category: Engineering, Health and Medicine, Information Technology, Technology
iCORE Chair Researches Visual Sensors
In this digital age, sensors are everywhere, helping turn information into digital data.
A pioneer in visual sensor research is Dr. Orly Yadid-Pecht.
She has recently moved from Israel to the University of Calgary. And with funding from iCORE, the Alberta Informatics Circle of Research Excellence, she will set up a lab for Integrated Sensors and Intelligent Systems.
Dr. Yadid-Pecht's research has many applications, from remote sensing, space, security systems, cellphones, and biomedical engineering.
DR. ORLY YADID- PECHT: Specifically in the biomedical area, we would like to develop sensors that can sense and detect neurons. So we would like to have them very sensitive which they cannot be right now in the technology that is commonly used. So we would like to actually be able to miniaturize these systems, make them much more affordable and much more convenient to use in labs around the world. And mainly deal with low light level and fluorescence and things like that.
Funding for Dr. Yadid-Pecht's lab is $5.4 Million dollars over 5 years.
Thanks today to iCORE
Learn more at InnovationAnthology.com
I'M CHERYL CROUCHER
Images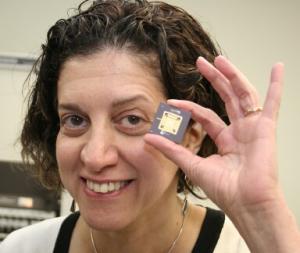 Links