Program ID: Innovation Anthology #246
Program Date: 07/30/2009
Program Category: Nanotechnology
ISO Standards for Nanotechnology
With the advent of nanotechnology and nanomaterials, the International Standards Organization is taking the unprecedented step of creating standards before the nano products or materials even exist.
This is to avoid a repeat of developing negative perceptions around nanotechnology the way they arose around the introduction of biotechnology.
Dr. Clive Willis convenes the International Working Group for Terminology and Nomenclature for ISO Technical Committee Number 229.
DR. CLIVE WILLIS: There is agreement around the world that this time on nanotechnology, because nanotechnology is going to so pervasive in the industrial economy of the world but the industrial economy of the world, that we need to make sure that, the need to be secure, the need to be manage risk in this has to be as good as we can get. We need to put in place a transparent activity so that the general public, so that industry, so that government, so that the scientists are comfortable that these aspects are being managed.
The first step in this process, says Dr. Clive Willis, is to standardize individual nano terms mean so there is no confusion.
Thanks today to Alberta Ingenuity.
Learn more at InnovationAnthology.com
I'M CHERYL CROUCHER
Images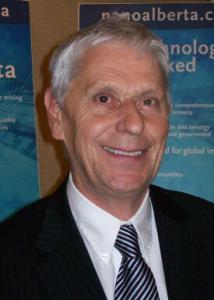 Links