Program ID: Innovation Anthology #224
Program Date: 05/12/2009
Program Category: Information Technology
KennelSeek.com Wins Student VenturePrize
Pets are great except when you have to travel.
And it's not always easy finding a kennel to look after Fido or Fluffy at the last minute.
Well, that may soon change with the creation of KennelSeek.com.
This internet based reservation system for pets is the invention of student entrepreneur Gordon McKinley. And it's the winner of the 2009 TEC VenturePrize Business Plan Competition for Students.
GORDON MCKINLEY: Well the online market is a $100 billion dollar market in US and Canada. So the growth is almost unlimited, really. And then the petcare provider market is $3.5 billion a year, so yeah, the sky's the limit basically.
Gordon McKinley is taking a Masters of Engineering degree at the University of Calgary. Entering the Venture Prize competition helped him hone his business skills.
GORDON MCKINLEY: Well I got presentation training. We had a boot camp and had lots of training doing that, and business plan training. So yeah, without all that training, I definitely would not have won the competition. McKinley says he will use the six thousand dollar prize to develop more features for his service, KennelSeek.com
FOR INNOVATION ANTHOLOGY I'M CHERYL CROUCHER
Images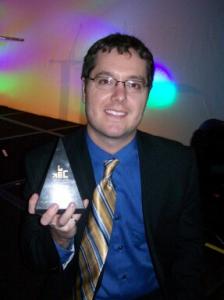 Links