Program ID: Innovation Anthology #19
Program Date: 03/20/2007
Program Category: Natural Sciences, Wildlife
Singing Crickets
When it comes to studying the evolution of mating behavior, the species of choice for Dr. Bill Cade is the cricket.
Not only is Dr. Cade the President of the University of Lethbridge, he's also a world renowned developmental biologist.
In 1970, he discovered there's a parasitic fly that listens for the mating song of the male cricket. Then the fly homes in the cricket, deposit its eggs, and the larvae feed on the cricket til it dies.
For some reason, this ever present danger has not bred singing out of male crickets.
BC: Males have a calling song which is the rhythmic one we associate with summer evenings that attracts females. They have an aggressive song which they use when they fight with other males and they have a courtship song which sounds like a very soft russtling of leaves which they use once they have actually touched a female with their antennae and it entices her to mate.
Female crickets listen with ears that are located near their knees, evaluating the males by the quality of their songs.
Dr. Cade believes these observations are helping biologists better understand why when it comes to mating, in the natural world males are competitive and females choosey.
Thanks today to The University of Lethbridge.
FOR INNOVATION ANTHOLOGY, I'M CHERYL CROUCHER
Images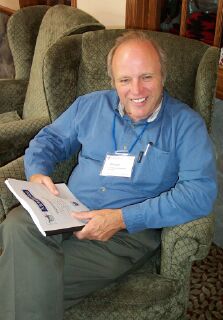 Links