Program ID: Innovation Anthology #189
Program Date: 12/02/2008
Program Category: Health and Medicine, Nanotechnology
Modeling Prion Proteins at the Nano Scale
Misfolded prions are the agents behind mad cow, chronic wasting disease in wildlife, and Kreutzfeld Jacob disease in humans. Spongy brains and death are the ultimate result.
But scientists are still trying to figure out the most basic facts about the prion protein, things like its molecular structure and function.
With funding from Alberta Ingenuity, Dr. Nikolai Blinov and a team of researchers are developing a computer model of the prion protein.
Dr. Blinov is with National Institute for Nanotechnology. He says the prion protein is a very tiny and very complex biological molecule that assembles at the nanoscale.
,b> DR. NIKOLAI BLINOV: We're trying to understand the stability of prion aggregates, If you will understand the molecular mechanism behind stability, we'll be able to understand how to inhibit aggregation And aggregated prion proteins are the infectious agents. So if you understand the mechanism of aggregation, you will probably understand how to fight the prion diseases.
Armed with that knowledge, scientists can design drugs to treat or prevent prion diseases.
Thanks today Alberta Ingenuity.
Learn more at InnovationAnthology.com
I'M CHERYL CROUCHER
Images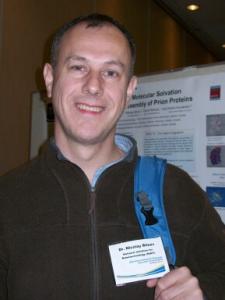 Links