Program ID: Innovation Anthology #184
Program Date: 11/13/2008
Program Category: Bioeconomy, Genomics, Health and Medicine, Information Technology
New iCORE Chair in Biosystems Informatics
The new iCORE Chair in Biosystems Informatics at the University of Alberta is Dr. Gane Wong.
What he does is process biological information. With the explosion in DNA analysis since the human genome project, biologists are among the biggest users of computational power.
That's why computer scientists, mathematicians, and even physicists like Dr. Wong are finding their way into biology labs.
Dr. Wong's research is focused on making the technology to gather biological data work faster and cost less.
And he says a recent change in technology has taken that improvement from a factor of two per year to a factor of 100.
DR. GANE WONG: And The technical change is called massive parallelism where they basically instead of doing individual experiments, they capture single DNA molecules on a cover slide and then do millions of experiments. So each molecule becomes a separate experiment on the cover slide. So there was a big factor of 100 improvement in about year.
Dr. Gane Wong predicts within ten years, the cost of sequencing a human genome will drop from half a million dollars to a mere one thousand.
Thanks today to iCORE, the Informatics Circle of Research Excellence.
FOR INNOVATION ANTHOLOGY, I'M CHERYL CROUCHER
Images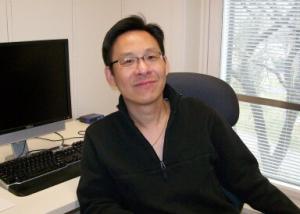 Links